Exhibit "A" Property Map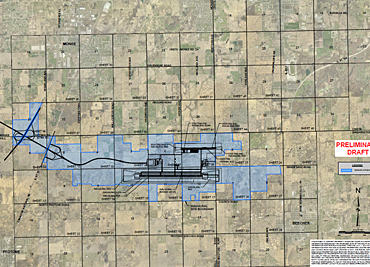 Click the map for a larger view.
The primary intent of the Exhibit "A" is to identify all that is designated airport property and to provide an inventory of all parcels that make up the airport. This work is being done in accordance with FAA Order 5100.38, paragraph 500 and AC 150/5100-17 CHG 6, paragraph 1-6.
This document provides an inventory of the land required for the SSA.  It identifies the acreage and date of acquisition for each parcel as well as parcels yet to be purchased for the inaugural airport. An update of Exhibit "A" will be completed annually following each fiscal year for review by the FAA.
After finding a section of interest on the map above, please select that section from the list below. All section maps are in Acrobat PDF.